Ovde će biti detaljno opisano kako da uploadujete fajlove na
www.zippyshare.com
, a princip je isti ne nekoliko drugih sličnih sajtova - sendspace.com, easyhare.com, wetransfer i sl.
Kad vas na našem serveru admin slika, to znači da vam je snimljen ekran u toku igre.
Na slici je jasno vidljiv tekst da vam je admin snimio sliku.
Slična slika se vam se snima i prilikom bana, samo što onda piše i da ste banovani.
Prvo, nađite demo i sliku u vašem cstrike folderu.
Kod Steam CS-a putanja je:
x:\Program Files\Steam\SteamApps\common\Half-Life\cstrike
Non-steam CS ima više verzija.
Neke prave svoj folder na C disku, neke unutar "Program files" - potražite u instalaciji CS-a u cstrike folderu
Kod Windows 7 se zna desiti da ss-ovi i demo nisu u cstrike folderu već u:
C:\Users\ tvoj_username \AppData\Local\VirtualStore\Program Files
Nazivi slika su kombinacija imena mape i četvorocifrenog broja, npr. de_dust20234, ili fy_anywhere0006.
Naziv dema je exit.dem
Zatim, idite na
www.zippyshare.com
Ovde vidite dugme 'browse'. Kliknite na njega, i otvoriće vam se prozor za pronalaženje fajlova na vašem kompjuteru.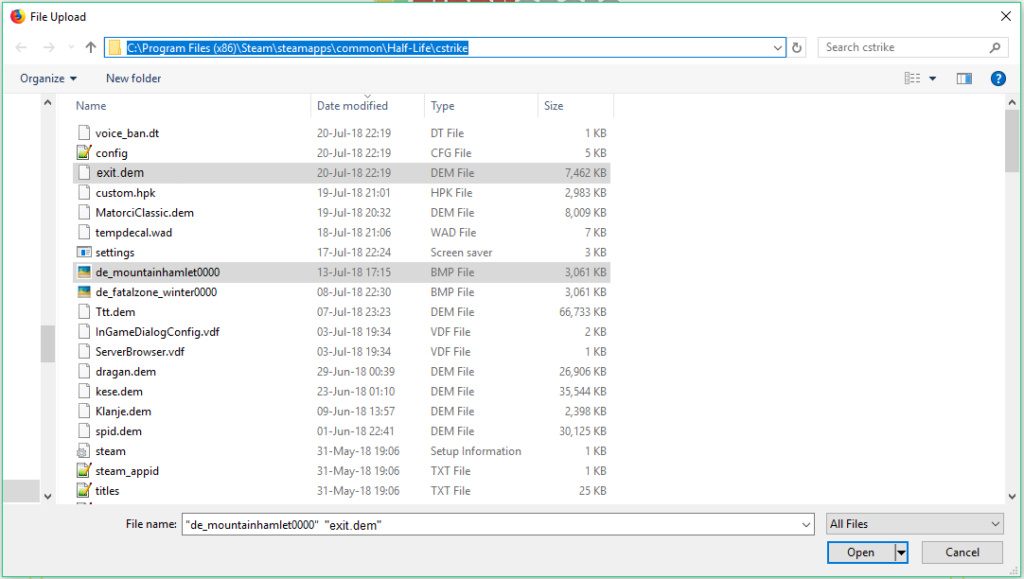 Nadjite fajlove koje želite da uploadujete, i obeležite ih - možete obeležiti demo i ss odjednom ako držite 'ctrl' dok klikćete mišem na njih. Kad odaberete ss i demo, kliknite na 'open' (ovde umesto 'open' može biti 'save' u zavisnosti od browsera koji koristite).
Kad to uradite, pojaviće vam se 'potvrda' da ste odabrali fajlove, i sad kliknite na dugme 'start upload'

Tokom uploada možete videti kako napreduje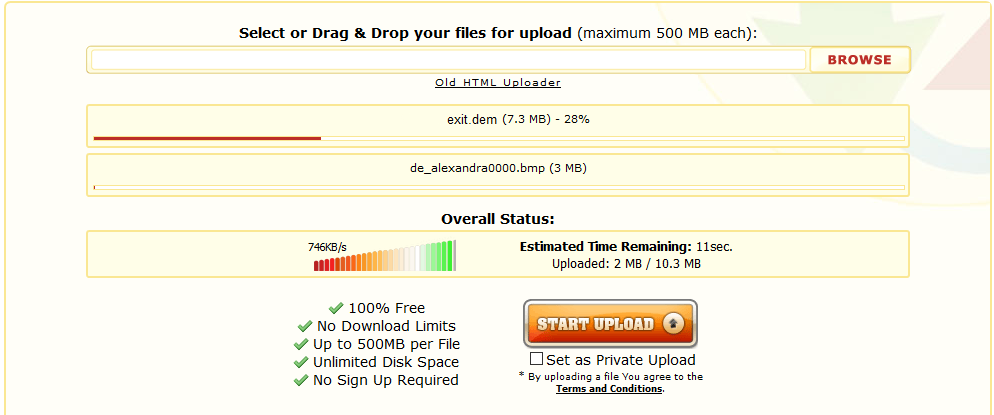 Kad je završen upload svih fajlova, pojaviće vam se spisak linkova:

Ovde nam je bitan samo prvi link od svakog fajla - kopirajte prve linkove svakog fajla, napravite novu temu, i u nju postavite iste te linkove, i to je to...